2013 SCSCRA Convention Recap and Photos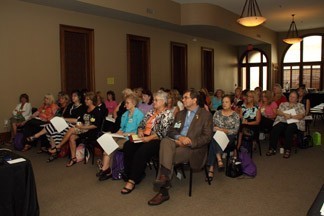 Over 42 court reporters from SC, NC and Virginia attended the 2013 S.C. State Court Reporters Association's annual convention August 21-23, 2013, at the beautiful Bleckley Inn in historic Downtown Anderson, SC, the "Electric City." Among the presenters were Anita Paul Johnston, a world-class speaker who has presented at numerous NCRA and state conventions as well as for local, state, national and international governmental agencies, and Don Scott, past NVRA president. Topics included CAT systems and other technology currently available, where we've been and where we're going.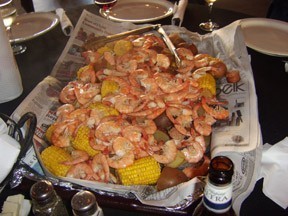 Our live auction took place Wednesday evening to the backdrop of a low country boil. We raised $1466 for next year's convention in Charleston. We also raised $627 for The Sparkle Caps Project (see below).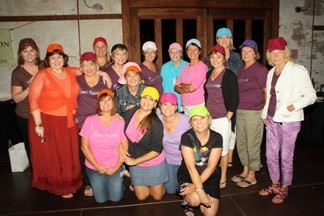 Some court reporters went wild at our auction – WILD over Sparkle Caps! SCP sent us 25 sparkle caps to auction. When Renee walked out with the box of brilliant caps, the gals got excited and started grabbing the colors they wanted. In spite of some of the reporters stating they had head lice and cooties and, therefore, were unable to return the caps for the auction, Renee did manage recover the caps.
LET THE BIDDING BEGIN! 25 caps auctioned, the highest going for $55, for a total of $627. What generous and sparkling ladies!!!!
In addition to the $627 raised at the auction, for SCP, the 1,000,000 Steps in 100 Days Challenge raised $1,500 for Sparkle Caps, plus an additional $250 in donations at registration, for a total of $2,377.
Of the 58 sponsorships designated with the SCSCRA's funds, 44 of those have already been delivered to women in treatment for cancer. Money was also added to the Children's Outreach; and 7 mini children's gift bags went out in August under SCSCRA's sponsorships. Money was added to other accounts, providing a wide-spread use of these funds. A full accounting has been provided to Renee Tollison for distribution.
Susan wants to again thank everyone who participated in the 1,000,000 Steps Challenge! They would not be where they are today—giving out their highest number of gift bags ever in August (39 adult, 7 mini gift bags for children and 1 caregiver's gift bag) without our fundraiser.
The Sparkle Caps Project is there for anyone anytime that they can help a loved one or friend dealing with cancer. They are an e-mail or FB private message away.
"THANK YOU! THANK YOU!! THANK YOU!!!" Love, Susan Heimbigner, Founder The Sparkle Caps Project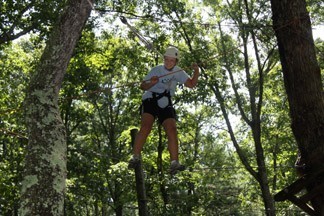 We spent the day Thursday at the scenic Clemson University Outdoor Lab in Pendleton, SC, high and low in the trees (ropes that is) for a group initiatives activity. We were challenged as individuals to step out of our comfort zones and accept new challenges which is a lot like our jobs. As court reporters, we are challenged daily. We're often on unsteady ground. When we fall, we have to pull ourselves up and keep going. Our jobs can be solitary, alone in a courtroom, but we know we have the support of our peers who are out there "on the ground." When things get really tough and we want to quit, we put one foot in front of the other and somehow get through. The workshop was well received by everyone who participated.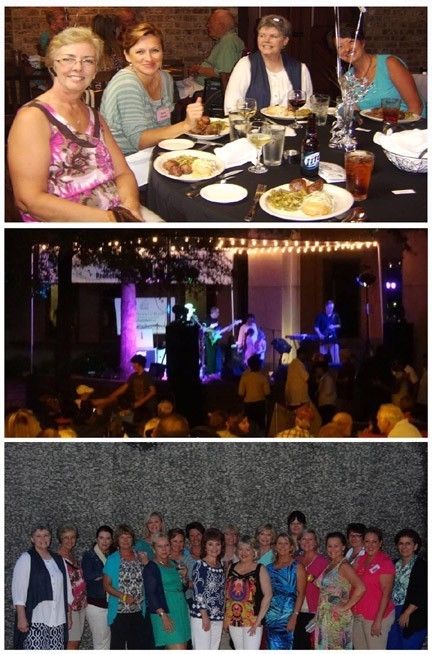 Thursday evening, we enjoyed a plated dinner at the Bleckley Inn and then live music at the Downtown Anderson Block Party. Then we wandered over to the newly opened greenspace, Wren Park, with fountains and stairs for a photo op.

Friday morning we chose from concurrent sessions on therapeutic chair stretching/self-defense and identity theft/medical terminology. Our final seminar was on the ever-changing world of technology.
The food was delicious and plentiful, the accommodations were luxurious, and the sessions were informative and motivating. We left Anderson feeling recharged with a renewed enthusiasm for our profession.